Akaroa
Akaroa
The oldest colonial town in the South Island, Akaroa is also uniquely the only French colonial settlement in the country. Set on a stunning waterfront and surrounded by craggy volcanic landforms Akaroa is a relaxed and pleasant holiday town just 82 kilometres from Christchurch City, about a 1½ hour drive.
The sparkling waters of the harbour are home to the world's smallest and rarest dolphin, the Hectors Dolphin while New Zealand Fur Seals, Little Blue Penguins and a myriad of bird life can also be spotted. The wildlife is best experienced by taking a cruise out to the headlands, on the way look out for dolphins swimming alongside the boat, and penguins inhabiting the craggy shores.
As well as wildlife cruises, you can take eco friendly sailing cruises, go swimming with the dolphins, or hire your own boat, paddle boat, or sea kayak to experience the harbour at your own pace. Back on land there are penguin colony tours, horse treks and mountain bike trails.
For something more relaxing, Akaroa's sandy beaches are just a walk away from most of the town, indulge in a day spa, browse the local artisan craft and fashion stores, or sit down in one of the trendy cafes, gaze at the scenery and watch the charming little town.
Many of Akaroa's older buildings are protected by the Historic Places Trust. You can hire an Audio Tour from the Akaroa Visitor Centre and listen to stories from the past as you explore on foot, or visit the Akaroa Museum to experience Maori history, and both French and British settlement.
Akaroa, which is Maori for 'Long harbour', was the region's first substantial European settlement and a safe haven for early whalers and sealers working in the Southern Ocean beyond the harbour's headlands.
---

Featured Akaroa Events
---
Tour Akaroa

Tour Akaroa Area
Akaroa Cottages Bengairn - Akaroa Holiday Cottage
- Holiday Home.
Akaroa Cottages Bengairn - Akaroa Holiday Cottage is situated in Akaroa. Guests benefit from private parking available...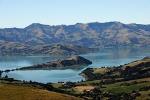 7-Hour Christchurch Tour from Akaroa Wharf
- Ports of Call Tour - Christchurch.
Starting from $50.00 per person
.
This group tour travels directly to Otautahi, the Maori name given to represent Christchurch, offering an opportunity...